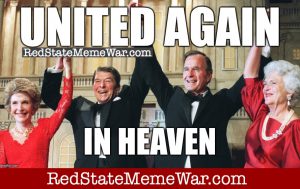 United Again in heaven.
On November 39th, 2018, former Vice President George H. W. Bush passed away joining his wife Barbara and former President Ronald Reagan and First Lady Nancy Reagan.
Ronald Reagan, Nancy Reagan, George H. W. Bush and Barbara Bush are United again in all their glory in heaven. May God continue to bless you all!