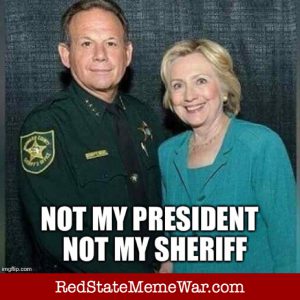 Not My President, Not My Sheriff. Scott Israel and Hillary Clinton
Well guess who may be joining the ranks of the unemployed. It's none other than Broward County Sheriff Scott Israel.
Today, Broward Sheriff's Office Deputies Association voted "No Confidence" in Sheriff Israel in a 534 to 94 vote.
The deputies union now plans to present the vote to Florida Gov. Rick Scott and ask him to remove Israel from office.
"Inconsequential" Vote
Israel remains defiant, calling the 534 votes against him "Inconsequential."
He then called the vote "unfortunate and appalling," which is ironic, as that's how most view his handling of the Feb. 14 shooting at Marjory Stoneman Douglas High School that killed 17 people.